Our current schedule has been modified due to covid-19: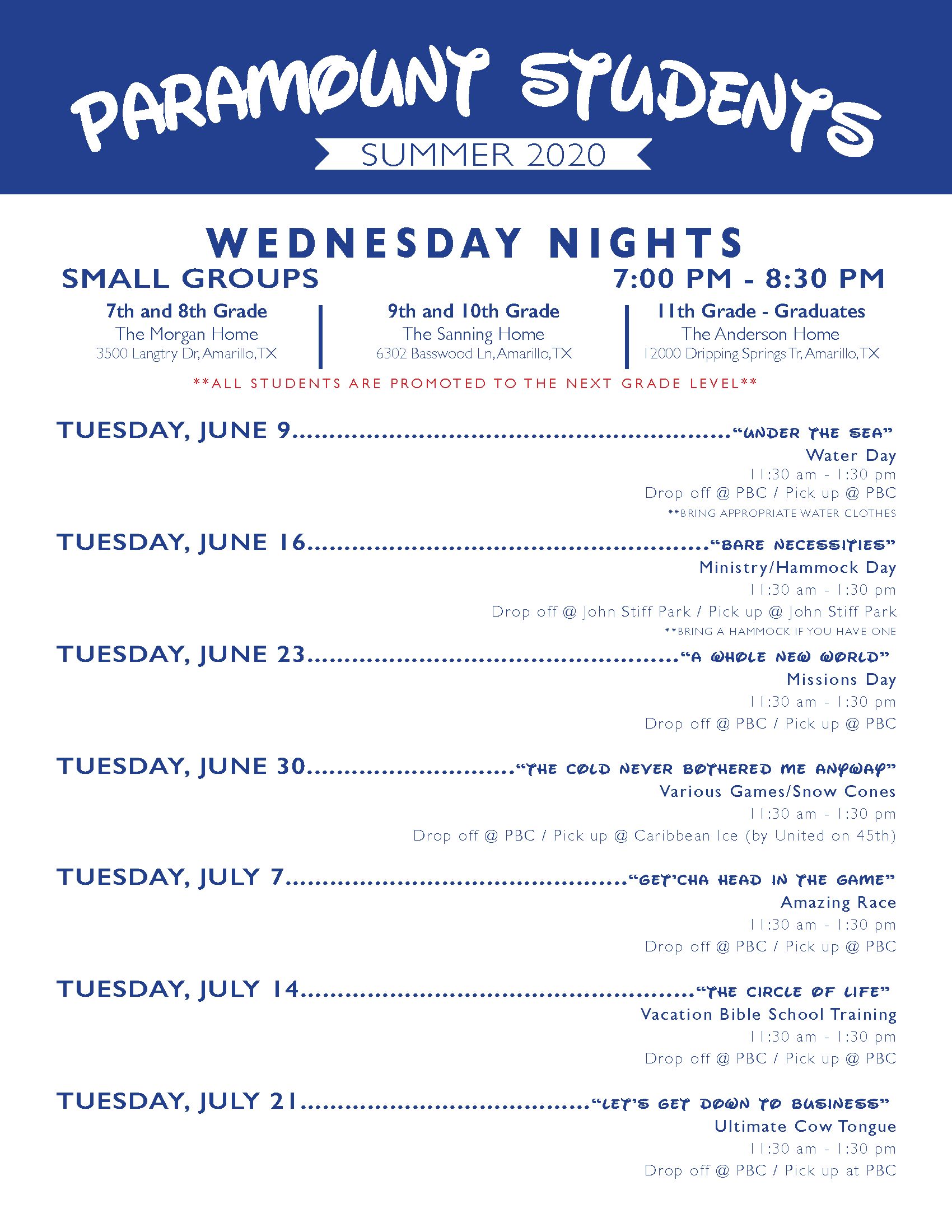 We have 2 primary ways we communicate with parents:
1. Email: Be sure you have up-to-date information on Rock (our church management software)
Register or Sign In to Rock
2. Facebook: We provide resources, schedule changes, and upcoming event information on our Paramount Students Facebook Page
Paramount Students Facebook Page
Paramount has always been known for our innovative ministries to students. Our purpose is to promote the healthy physical, relational, and spiritual growth of middle schoolers and high schoolers—while partnering with parents to reach this goal. We offer a variety of activities, from Disciple Now weekends to worship retreats and week-long camps…all designed to help students develop their full potential in Christ.
Medical Release Form
A current medical release form is needed to participate in all Student activities. Click the link below to download the form, complete it, and return it to the church office.
Download Medical Release
Wednesdays
The centerpiece of our student ministry is Wednesday night, a combined worship experience for 7th-grade students through high school seniors. From week to week the format may change, but the typical gathering may include games, experiential worship, praise songs, discussion, small groups, preaching and teaching.
• 6pm: The Loft & Youth Cafe Opens (Building C, 2nd Floor)
• 6:45pm: Wednesday Night Youth (Building C, Room 150)
To get to Youth Worship, park in the Purple Parking Lot and use Entrances C1 or C2. To get to The Loft, use the Building C entrances or Entrance B4 and head upstairs.
Sundays
Our students meet together on Sunday mornings for age-divided LifeGroups at 9:45am in Building C. On Sunday evenings, students meet for youth choir, Ministry Teams, and high school discipleship groups.